Should I Buy a Car With a Branded Title?
Salt Lake City drivers have likely heard the buzz about buying a branded title car. Branded title cars offer up a fantastic way to save on your next car, but what is a branded title, and are brand titles worth it? Read on for a comprehensive answer to these questions and a general overview of everything you need to know when buying a branded title car before you fill out a pre-approval and value your trade.
---
What is a Branded Title?
Say someone's car gets totaled in Denver, CO, but the mechanic is able to work a miracle, and the vehicle works like new regardless of the damage it's sustained. That's wonderful news, however, in some cases, the insurance company will still shift the designation of your vehicle from "clean" to "salvaged." This has a pretty big impact on the residual value of your vehicle as one can imagine. While that's awful news for the owner of the vehicle, the good news is that there are used vehicles out there in excellent condition with shockingly low prices because they've been "branded" by an insurance company as being "salvaged."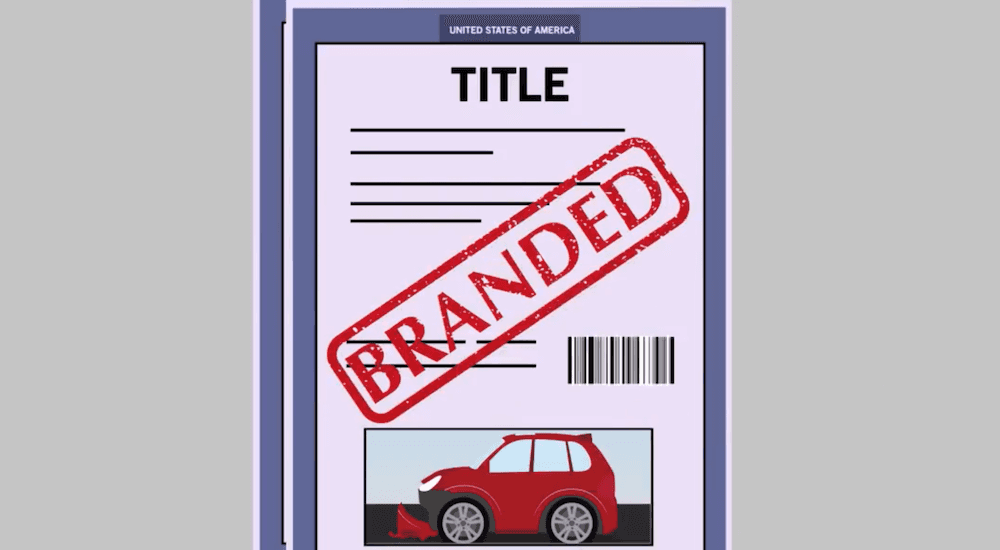 ---
Are Branded Titles a Bad or Good Investment?
Are branded titles bad? The negative buzz surrounding branded titles refers to the unfortunate circumstances when a perfectly good vehicle has its value ruined by an insurance company. Sometimes negative association for owners of branded vehicles gets tangled up with what a branded title means for a potential car shopper in Las Vegas, NV.
You may still be asking yourself, "should I buy a car with a branded title?" After all, it's been through an accident. We answer with a resounding, "Absolutely."
---
Are Branded Titles Worth it?
Buying a branded title car is a great idea. Especially when you choose to purchase yours through AutoSavvy, which has the largest inventory of the cleanest branded title vehicles in and locations throughout the nation. We make it our job to find the cleanest "salvaged" vehicles and refurbish them to excellent condition. Here's why can trust that your vehicle is in excellent condition when you choose AutoSavvy:
All of our vehicle evaluators and inspectors have undergone extensive training and are AutoSavvy certified.
We reject roughly 90% of the vehicles we come across at wholesale lots for branded vehicles, so you can rest assured that even prior to refurbishment, your next car is the exception to the "salvaged" brand.
Each of our models undergoes a 151-point inspection.
We've sold over 25,000 vehicles.
Why choose AutoSavvy over the competition? There are a lot of shady businesses out there selling salvaged vehicles. We've sold vehicles to thousands of happy customers. You'll be hard-pressed to find a more organized and professional company selling salvaged vehicles when buying a branded title car.
---
Reach Out to AutoSavvy for More Information
If you're still asking yourself, "should I buy a car with a branded title" or, "are branded titles worth it?", get in touch with us. We'd love to show you the quality of these vehicles firsthand before you decided whether or not to settle on buying a branded title car. Be sure to explore our service contract options and salvage title trucks for sale while you're here.
More From AutoSavvy
Inherent to AutoSavvy's business model is the adage, "reduce, reuse, recycle." By reconditioning vehicles that are destined for auction yards, AutoSavvy reduces the need to manufacture yet another car for today's congested roads—saving the estimated 60,000 gallons of water it takes to produce a new vehicle. AutoSavvy Honored as Green Business by Utah Business In…

AutoSavvy has opened 7 locations in 2022 – San Antonio, Texas is home to the 20th AutoSavvy Location There are now AutoSavvy showrooms in 11 states. Tuesday, October 18, 2022 9:00 am MST Dateline: San Antonio, Texas AutoSavvy is a privately held company "While San Antonio is a new city for us, we're confident that…

"We've created a value proposition for car shoppers that did not exist before. Being named to the Utah 100 as one of the fastest-growing companies in the state is proof that our disruption is making a difference." – Cory Goodfellow, AutoSavvy CFO AutoSavvy Named to MountainWest Capital Network's 2022 Utah 100 AutoSavvy was recognized at…