Ford Bronco – Will It Live Up To The Hype?
The Bronco Returns
Ford announced the return of the Bronco last week (7/13/2020). The long awaited announcement was met with excitement and intrigue from most car enthusiasts. Like always, some were critical of design and specification choices that were made by Ford. Overall though, the reception seems positive & reservations for the First Edition would suggest there are plenty of fans. Originally, Ford announced the production of 3,500 First Edition Broncos, those sold out in one night. In response, Ford doubled the production & like the first batch, those sold out, too.
Since the end of manufacturing in 1996, the Ford Bronco has remained a "Cult Classic". Despite being off the production line for over 20 years, most would recognize the name or body style… thanks, OJ. The 2021 Bronco immediately opens up competition against the Jeep Wrangler, a staple in the Off-Road Capable SUV segment. Something that many hoped the Chevrolet Blazer would do, but Chevy opted for a less rugged feel.
Let's take a look at what the 2021 Bronco is, and what it's not.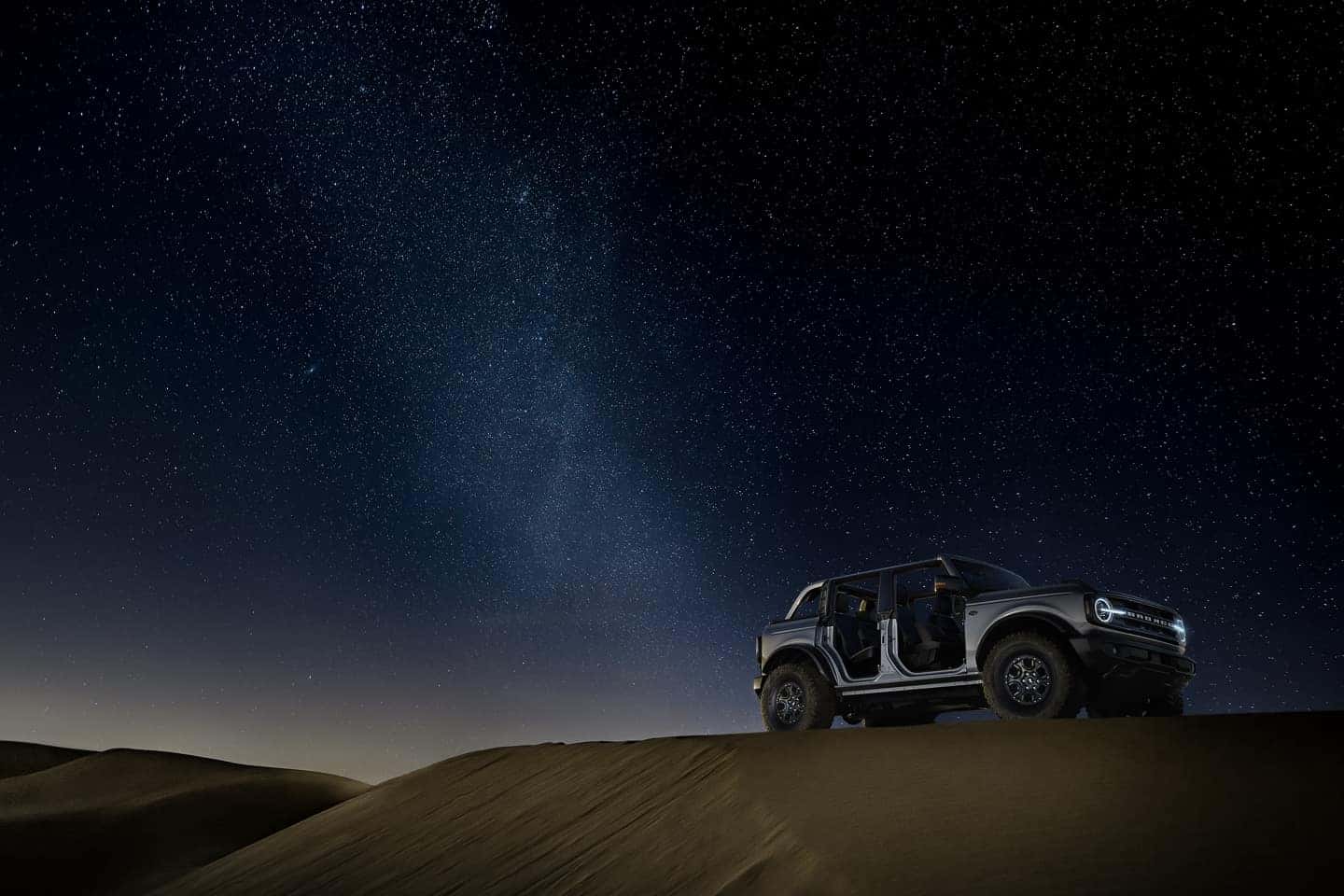 ---
Engine
Engine options include a four cylinder or V-6. Ford says the Bronco comes standard with a 2.3L EcoBoost that puts out 270 horsepower and 310 lb.-ft. torque. Customers could opt for 2.7L EcoBoost that produces 310 horsepower and 400 lb.-ft. torque, but know if you opt for the bigger engine you'll have to be okay with the 10-speed automatic transmission. If a 7-speed manual is preferred, you'll have to stick with the smaller engine. The most glaring omission from the current Bronco lineup is the V-8 engine. An unpardonable transgression for some Bronco purists.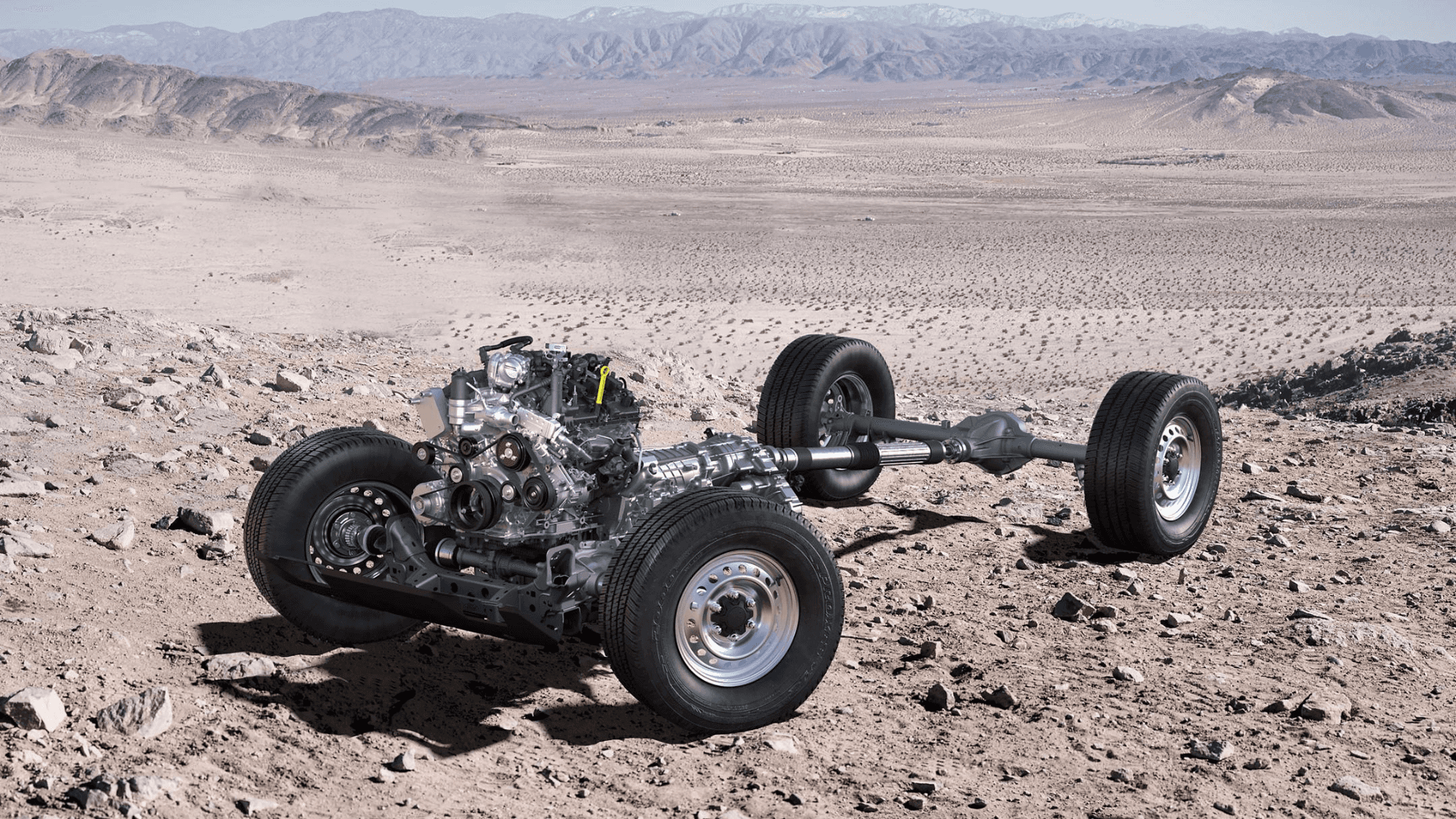 ---
Body
The body of the Bronco comes in a 2 or 4-door design, which Ford claims are 'lightweight and easy to remove'. Ford even devised a plan to store the doors inside the Bronco itself when they aren't on their hinges. The Bronco also comes with a removable top that can be a soft or hard cover. Ford took steps to protect the interior in off-road situations, or to dress it up for those who stick to city streets.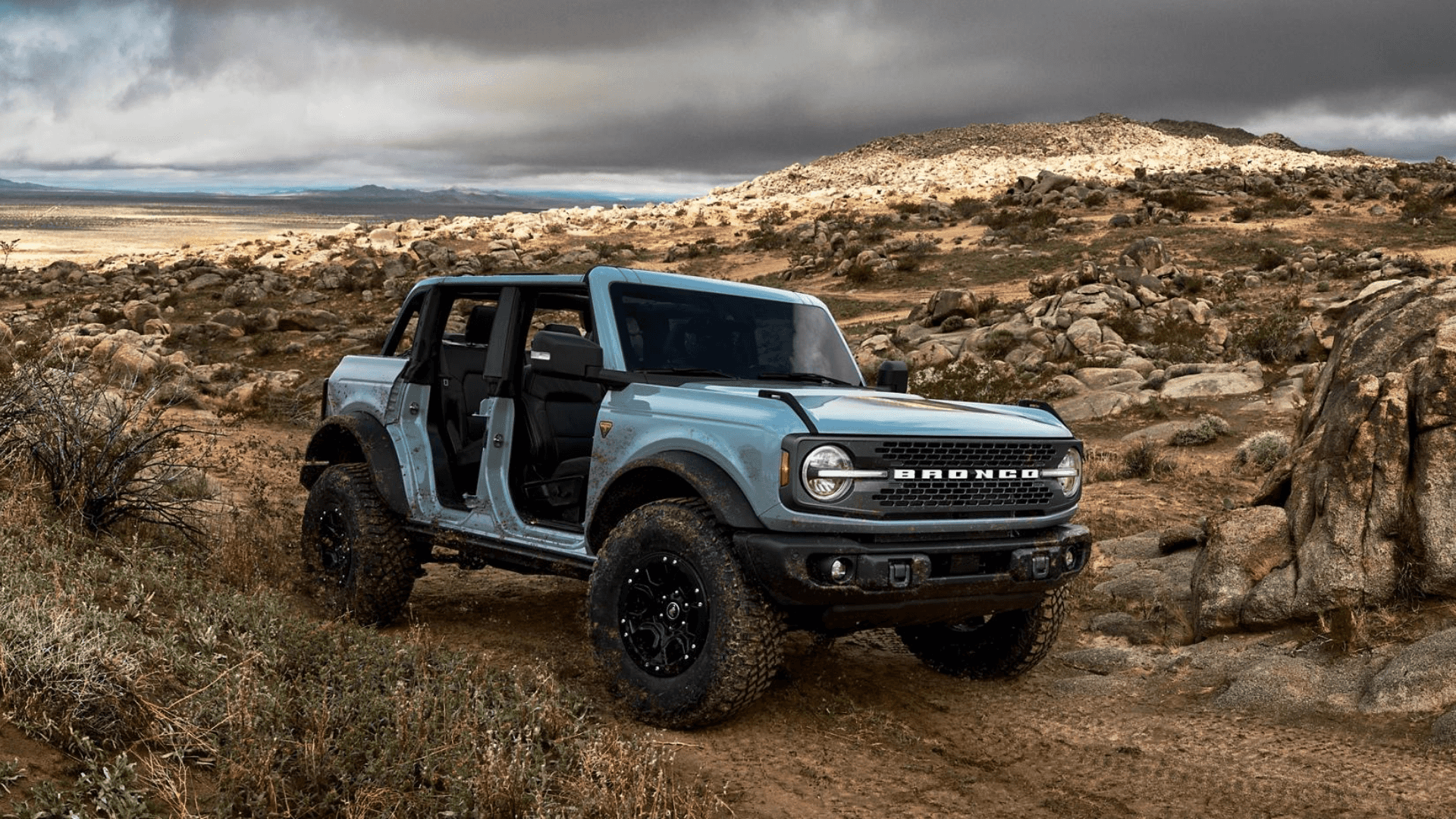 ---
Models & Packages
Models of the Bronco are vast. Starting with Base, and working upwards, Ford offers the Big Bend, Black Diamond, Outer Banks, Badlands, Wildtrak, and First Edition. Easily, the most notable package available on the Bronco is the Sasquatch Package. Ford says the "Package includes 35-inch tires with 17-inch beadlock-capable wheels, front- and rear-locking differentials, Trail Control,™ 4.7 Final Drive Ratio with electronic-locking front and rear axle. There's also a high-clearance suspension and high-clearance fender flares."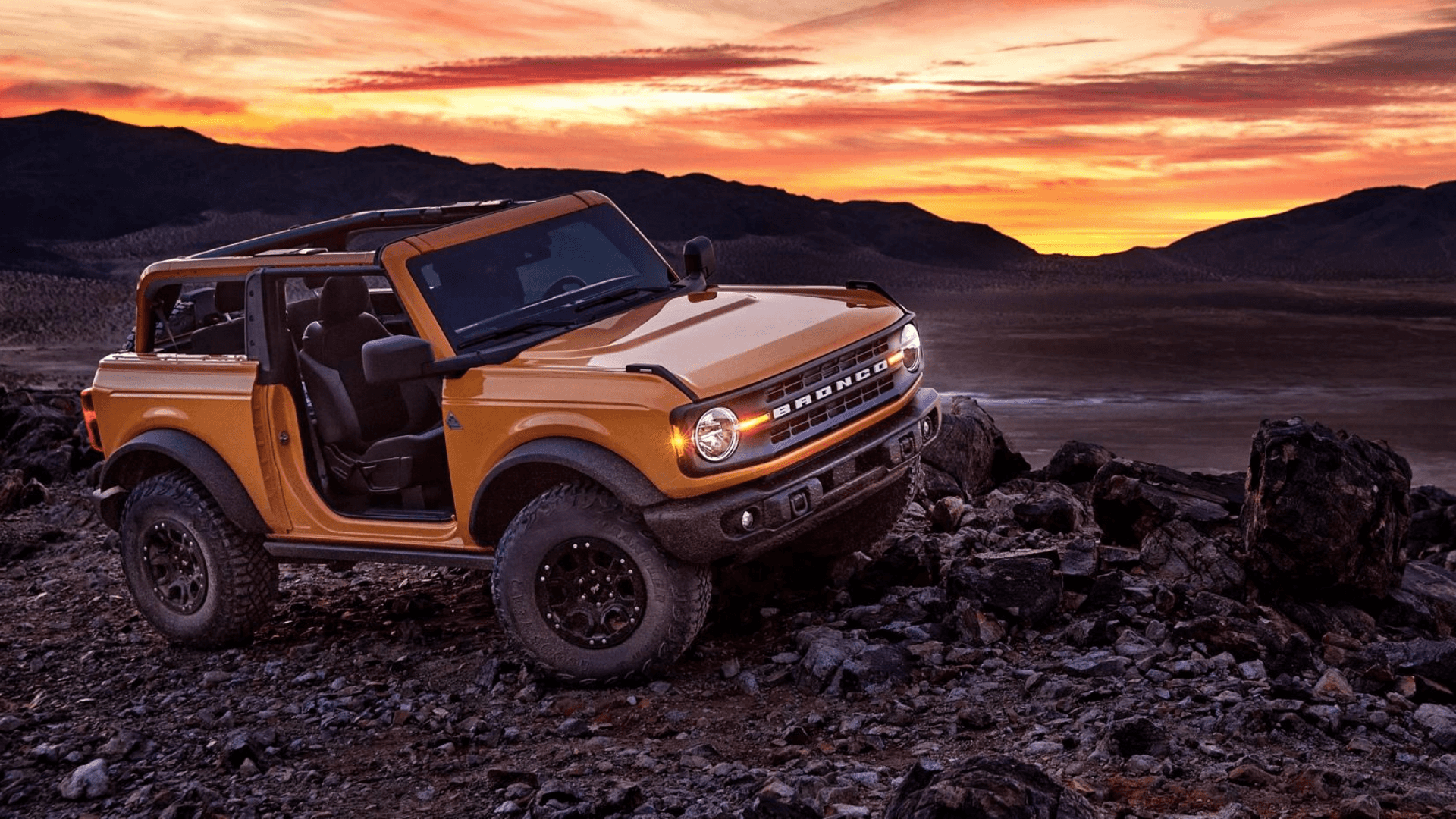 ---
Release
The 2021 Bronco is not supposed to hit Ford Dealerships until Spring of 2021, but preorders are selling quickly. AutoSavvy does not sell new vehicles, but we are the nation's largest dealer of branded title vehicles. Chances are high that in 2021 someone will have their insurance company total their new Bronco. When that happens AutoSavvy has the opportunity to purchase the vehicle, correct any issues, and sell it at our dealerships. For example, it took about 6-7 months for the new Chevy Blazer to show up on our lots.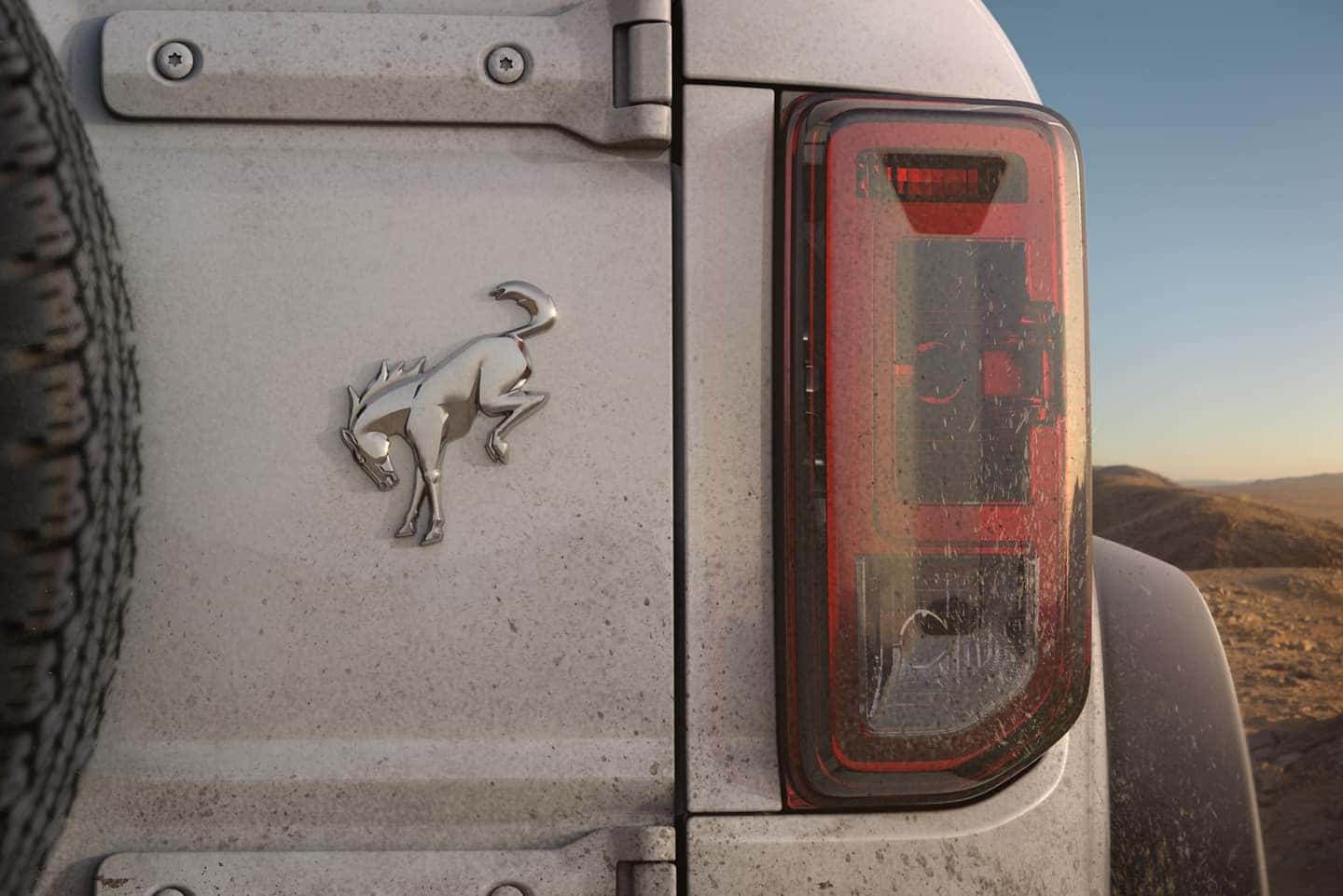 ---
Competition
If you're not interested in paying full price for a new Bronco, and don't want to wait the extra months for a branded title Bronco to become available, we'll suggest that you take a look at some of the listed competitors we have available today.
---