AutoSavvy Named to MountainWest Capital Network's Utah 100 For Third Time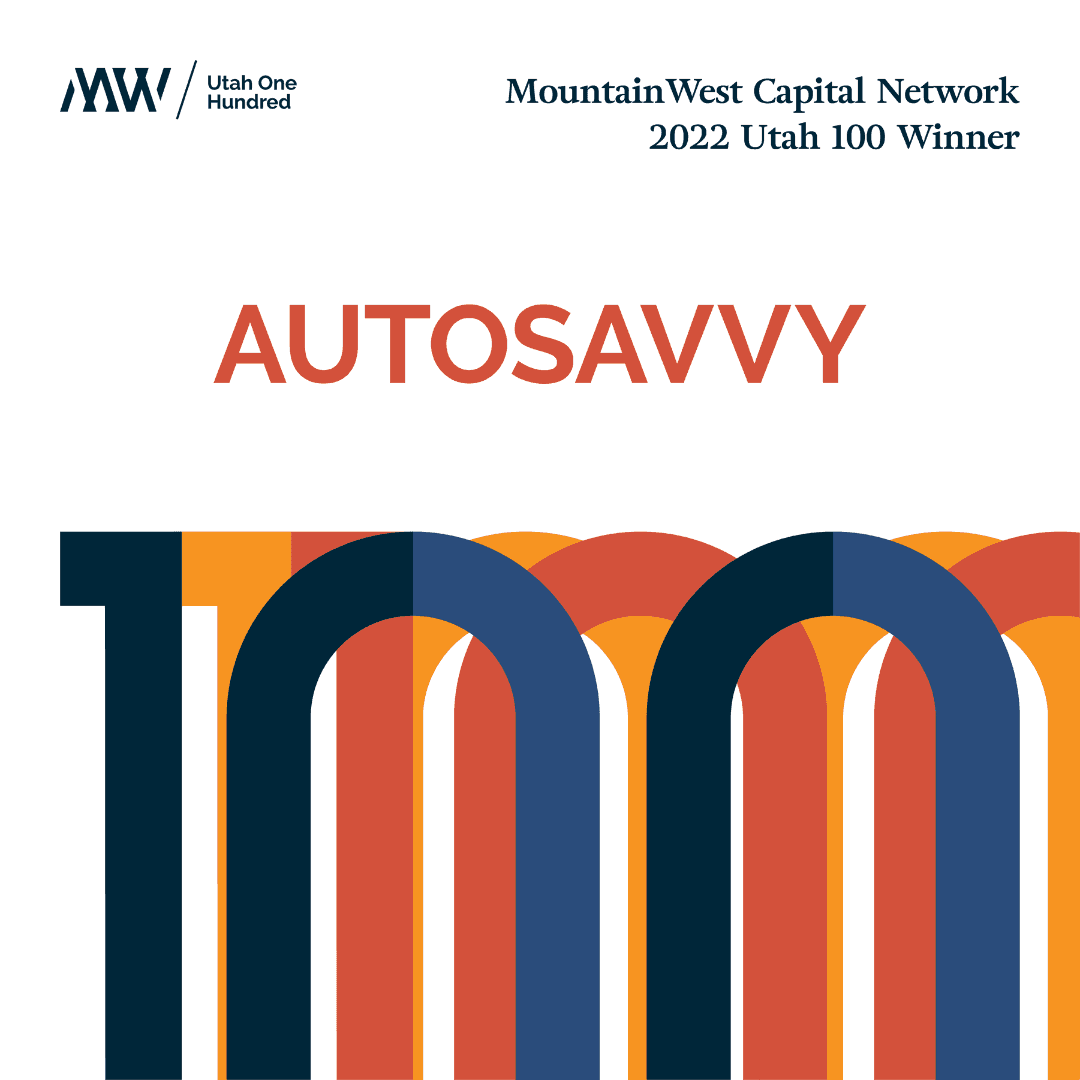 ---
AutoSavvy Named to MountainWest Capital Network's 2022 Utah 100
AutoSavvy was recognized at the 28th annual awards ceremony Oct. 17
---
WOODS CROSS, UTAH — October 17, 2022 – AutoSavvy today announced it was named to the 2022 Utah 100, MountainWest Capital Network (MWCN)'s annual list of the fastest-growing companies in Utah. AutoSavvy ranked No. 33 out of 100 companies and was honored at the 28th annual Utah 100 Awards program, held at the Grand America Hotel in Salt Lake City.
"AutoSavvy has been disrupting the ever-changing automotive industry for more than a decade. We've created a value proposition for car shoppers that did not exist before. Being named to the Utah 100 as one of the fastest-growing companies in the state is proof that our disruption is making a difference. Our company has doubled in size in the past 2 years, and we anticipate that growth to continue in the years to come," said Cory Goodfellow, AutoSavvy CFO.
"We congratulate all of this year's Utah 100 companies for building outstanding businesses and making strong contributions to Utah's economy," said Jason Roberts, Chairman of the MWCN Utah 100 committee. "These companies further advance Utah's standing as an excellent place to do business."
Recipients of the Utah 100 were chosen by the percentage of revenue increase of each company between 2017 and 2021.
About MountainWest Capital Network
MountainWest Capital Network (MWCN) is the largest business networking organization in Utah, consisting of entrepreneurs, venture capitalists, consultants, legal professionals, bankers, and educators. MWCN seeks to promote and recognize business growth and capital development in the state through a variety of award programs and activities.
About AutoSavvy
Since 2005, AutoSavvy has been providing unparalleled value to car buyers by selling branded title vehicles, often referred to as salvaged or rebuilt titles. By carefully sourcing the best inventory from around the country, AutoSavvy is able to recondition these vehicles and put them through a strict, 151-point inspection and ultimately provide incredible savings to the public. With 20 locations in 11 different states (AZ, CO, FL, ID, IN, MI, NE, NM, NV, TX, & UT), AutoSavvy has grown from a single dealership in Woods Cross, UT to the nation's largest seller of branded title vehicles having sold more than 60,000 vehicles since opening its doors.
AutoSavvy was named to the 2021 MWCN Utah 100. Find more information here.
AutoSavvy was named to the 2020 MWCN Utah 100. Find more information here.
Contact: Please contact AutoSavvy Marketing Director, Chad Cannon at [email protected] for additional information about AutoSavvy.